The Artisan EV2000R
Marty and Doc's spare ride from the future.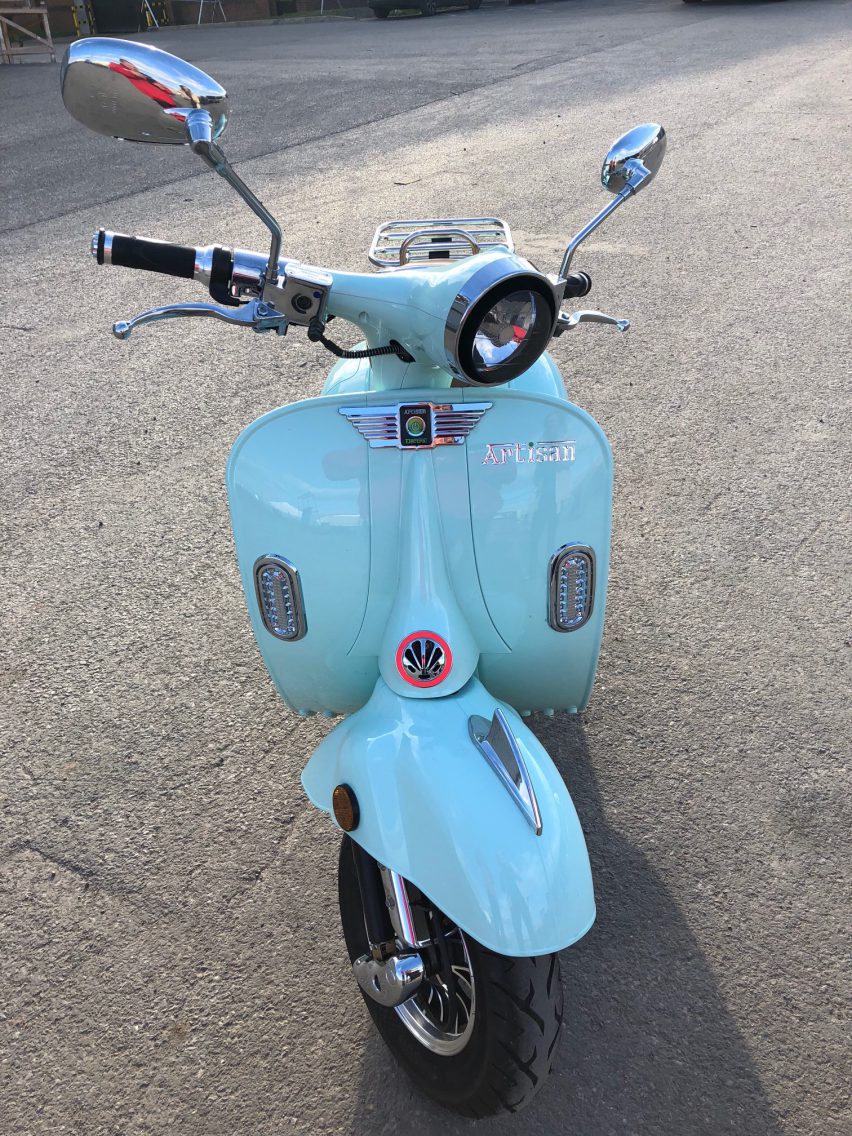 When obsessive Mod Jimmy Cooper sent his scooter over the cliff in the closing scene of the 1979 film "Quadrophenia", the selected scooter of choice was a remodelled 1970's scooter made to look like a Vespa Rally from the 60's. The whining noise of the Vespa (Italian for wasp!) was heard screaming to its death like the screaming banshee playing the part of the dying swan in Swan Lake.  Only… the scooter didn't die, it just took a sabbatical. In 1946 Piaggio developed the first scooter as a mode of transport for broken Italy. Who would have thought that it would be the instrumental signature tune to "My Generation" and be the bike of choice for boys in Sherry's Suits and Parkas.
The time travellers at Artisan have stolen Jodi Whitakers TARDIS and brought back timeless style and fun to a new age of pizza boys, the natural descendants of Jimmy, Sting and the boys.
Their stealth time travelling scooter uses witchcraft and not a two-stroke as a method of propulsion. Scotty's dilithium crystals engage with the Warp drive disguised as a 2000w electric drive system, giving a range of 50 miles with two removable Lithium batteries. The batteries are easily removed, and unlike the good Doctor, regenerate via a compact charger using a 13amp plug in about 5 hours… just like your smartphone.
Everything about this scooter is very tactile and the quality of build was high. The fuel— err sorry, dilithium drive gauge was accurate and backed up on each battery with its own graphic showing battery condition.
The drive was smooth, silent and ever so slightly unnerving at first.  Once you were off the absence of engine whine, clunky gear change and blue smoke from the rear told you that you had Marty and the Doc's spare ride from the future. We liked it. It was a constant source of amazement and amusement to the old Mods we showed it to, and a real crowd pleaser.
The Artisan Scooter found patrolling the Men & Motors base at Pinewood Studios a natural home, as it would in Puerto Banus, Covent Garden or in Cannes. Would I take it out on a windy day on the A40? Well… no. That mission will require a bit more than the 2000w has to offer, especially if you want to exceed the 30mph it has to offer. Nevertheless, this classic scooter makes for an ideal present for any M&M two wheel aficionados.
Michael Infante