The Nissan Xmotion: Zen on Wheels
Featuring half a tree and a koi carp.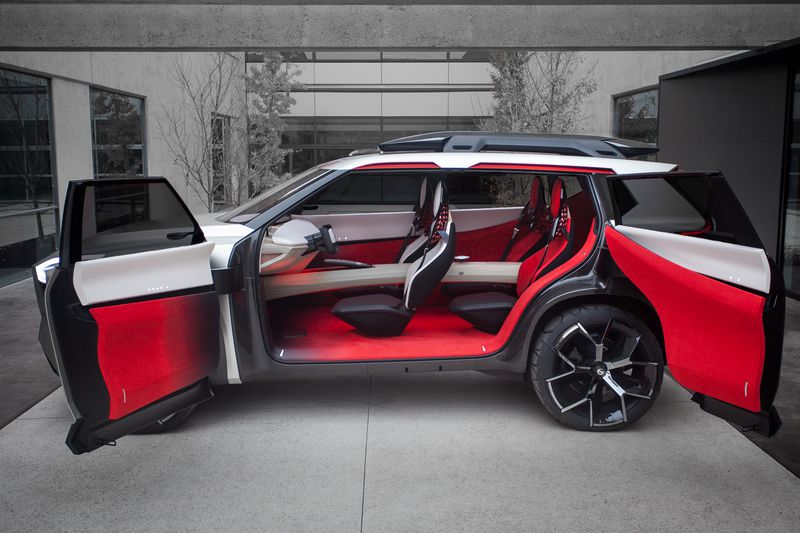 Nissan stole the show at this year's CES with its latest concept car—the Xmotion.
Off the bat you see an obvious departure from Nissan's current range, and a turn towards traditional Japanese design.
The taillights are said to have been inspired by Japanese woodwork. The center console and dash were put together using kigumi wood joinery. The "virtual assistant" is a koi fish for goodness saké!
Not only was Nissan inspired by Japanese culture. They actively sought to make the car appear less Western. Which harkens back to the good old days in the nation-state. They were full of great ideas. Did you know that Kamikaze translates to 'divine wind'?
Honestly, it looks great. The exterior is blockish, mean and assertive. The wheels and tires appear to merge with elegant interlocking patterns, and the headlights are extraordinary like epicanthal folds. And yet, to see what this car is all about, you need to look inside.
Inside you'll find a trove of technology. Despite the likes of Tesla having received complaints about their touchscreens, Nissan have gone and installed seven of them, some of which span the width of the dashboard. Another quirky feature, or non-feature, is the absence of mirrors. Cameras mounted around the vehicle stream video to an on-board screen instead. Unfortunately for us, mirrors are still a legal requirement in the UK.
Now let's not ignore the tree growing through the middle. I wonder how much it would cost to repair if we etch our initials into it. It's a nice detail, and in spite of it, Nissan managed to squeeze six seats in there!
The car requires fingerprint authentication to operate, which in turn will rouse the koi fish from its virtual slumber. The koi then function like Holly from Red Dwarf, controlling the cabin conditions based on user preferences, which can be set through voice alone.
As great as it would be to see the Xmotion come into production, it probably won't. But some have speculated that it's suggestive of, and previewing in some way, a new Xterra. Whether or not this is true, finger's crossed Nissan continues in this direction with future designs.
Marc Ward