2019 Lamborghini Urus: The World's Fastest SUV Revealed
The Urus is faster, sleeker, and more luxurious than any in its class.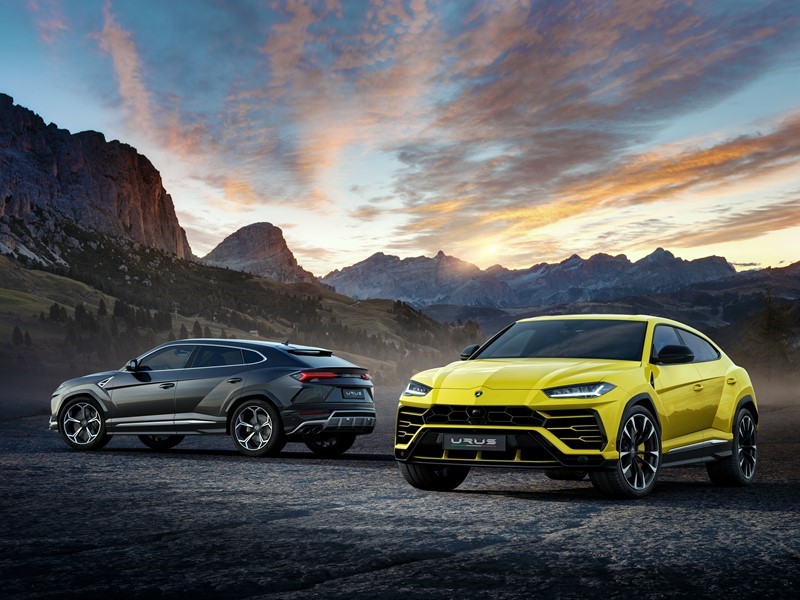 Driving can be a grueling ordeal; traffic jams, road rage, near death experiences; whatever it may be, it can wear on you. But be sure to grit your teeth and hold a straight face or they'll see that you're only human—wouldn't want that, would we? If only you could hide behind a 4-wheeled facade that shouts 'excellence', 'sophistication' and 'power'. Well, it turns out that for £165k, you can...
The Lamborghini Urus caused a great deal of excitement at its unveiling. It's not their first off-roader—that would be the LM002—but it did make its debut as the world's fastest SUV. Lamborghini have claimed 0.62 mph in 3.6 seconds and a top speed of 190 mph. Considering this is a 2.2-tonne luxury off-roader, that's pretty damn impressive. Unsurprisingly, it's predicted to account for more than half of Lamborghini's global sales by 2019.
In true Lamborghini fashion it has been named after a large extinct bull, and at first glimpse you may notice the familiar sleek and edgy styling of their acclaimed sports cars. But under the hood is a different story. With a 4.0-litre V8 engine, a twin-scroll turbocharger, and an 85-litre fuel tank, the Urus will produce 650 bhp. It's the first Lambo to officially don a turbocharger- but that's not the only thing responsible for its remarkable performance.
By default the Urus will distribute 60% of its torque to the rear-end, but it can shift up to 70% to the front, or 87% to the rear, depending on grip demands. The extravagant machine sports a torque-converter for quicker upshifts, an eight-speed automatic transmission, and cylinder-on-demand technology which will shut down up to four cylinders when they're not needed, helping to lower its carbon footprint.
Keeping with the times it comes standard with full "Level 2" autonomy, which includes lane keeping systems, active cruise control and autonomous braking. You have the option of 8 driving modes: Strada (street), Sabbia (sand), Neve (snow), Terra (earth), Corsa (track), Sport (speaks for itself); and finally Anima (spirit) and Ego (self), with the latter being an option to customise the settings.
The interior exhibits 616 litres of boot space which adds up to far more with the rear seats folded flat—not something we're accustomed to with Lamborghinis. You also have the choice between a five or two-seat rear layout. The luxury car has two digital screens placed one above the other in the center of the dash, with an integrated phone compartment, wireless charging, Bluetooth streaming, USB connection and voice control. And if you have kids you'll be glad to know that they can be drowned out by 21 high quality speakers.
Not bad considering Ferruccio Lamborghini started out by manufacturing tractors.
Marc Ward