The New Suzuki Jimny
Possibly the first car with a Napoleon complex.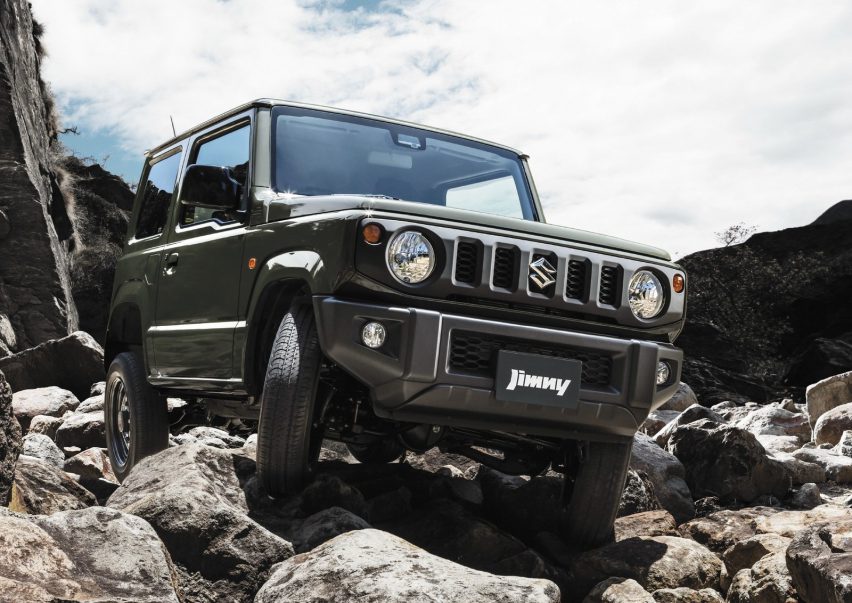 No, it's not an FJ Cruiser, nor is it a Mercedes G-Class. As a matter of fact, it's the fourth-gen Jimny… Suzuki's no-nonsense, diminutive off-roader.
The Jimny is just 3.6m long and 1.6m wide, about the same as a Renault Twingo. But that doesn't mean it should be taken lightly.
Some insist that it's the toughest kid on the block, going places that no other SUV would dare to set tyre. Apparently no one believed it before because it was so damn cute.
But this model is 60% less cute than its predecessors. Look at those headlights; no more childlike innocence, this Jimny has seen things.
Despite its size it sports a 1.5-litre four-cylinder engine, produces 100 horsepower and hits speeds of up to 90 mph.
Which is fine… don't forget, this thing has been built for hard-core off-roading, not racing competitions.
Hence the rugged ladder-frame chassis/body-on-frame design, which makes it easier to tweak suspension and to make room for larger wheels/tyres.
Other off-road credentials include a low-range transfer box (with a choice of 2H, 4H and 4L), a three-link rigid rear axle, and 'hill-hold' & 'hill descent' control.
Climbing a mountain? Take note. The Jimny's approach angle is 37 degrees and its departure angle is 49 degrees. More impressive than a G-Class, which touts 31 and 30 degrees respectively.
Inside you'll find ample (377-litre) boot space—far more than previous models—with a practical wipe-clean plastic shroud throughout.
Suzuki has also added a seven-inch touchscreen along with a host of other cool tech, including traffic sign recognition.
It will read speed limit signs and display them on the dashboard, provide various warnings and apply brake force if it senses danger.
It boasts advanced software called 'AllGrip Pro' which governs drive to all of its 15" alloy wheels… obviously not to the tailgate-mounted spare.
It comes in an array of different colours, including three dual-tone and five single-tone colour schemes.
And best of all? Its price, which we expect will be under 19k. So it won't be too costly to join Jimny's considerable cult following.
The tough and tiny SUV will be presented at the 2018 Paris motor show in October. Be there, or be Jimny.