The T.50: Successor to the McLaren F1
"The purest, most rewarding driving experience of any supercar ever built."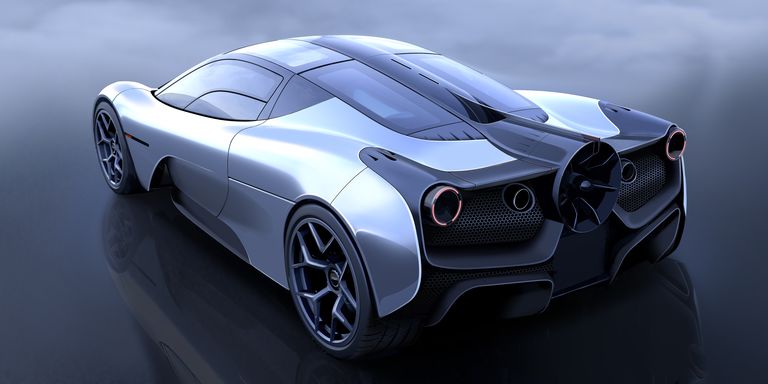 Take a moment to appreciate the first picture of Gordon Murray's latest project.
The renowned designer of the McLaren F1 has shared some exciting details about his upcoming motor. Codenamed the T.50, it represents his 50th car design in half a century, and promises "the purest, most rewarding driving experience of any supercar ever built." 
"Back in the 1990s, I designed the F1 as a sort of super-GT car," he said. "It was absolutely road-focused and we had no plan to go racing, which is why it set new standards for packaging and road space… The T.50 has exactly the same focus and betters the F1 in every area."
Weighing in at just 980kg, this all-carbonfibre mid-engined motor bears no unnecessary weight. Some cars chase record-breaking speeds with big engines and heavy cooling systems, the T.50 opts instead for nimbleness. It sports a 3.9-litre normally aspirated, very high-revving V12, specially designed in collaboration with Cosworth. Compared to the F1's 6.1 litre V12, it's much smaller, lighter and more compact, and despite the size it's actually more powerful, generating an impressive 652bhp.
With a power-to-weight ratio on par with a LaFerrari, what keeps it grounded? It doesn't have a rear wing… hardly anything protrudes… it's smoother than a baby's backside! The answer?… the T.50 features 'revolutionary' 'fan car' tech, similar to Murray's Brabham BT46B. A 40cm-diameter fan generates aerodynamic downforce and automatically adjusts to improve grip on corners, to create high-downforce for wet roads, to lessen drag for fast cruising… so on and so forth.
Similar to the F1, the cabin is accessible through a pair of dihedral doors. It sports a central driver's seat with seats for passengers on either side, a six-speed stick-shift manual gearbox and traditionally styled analogue instruments/switches. All things considered, it's clear why Murray thinks the T.50 will outshine all rivals, including the Aston Valkyrie, for "purity, sense of purpose and ground-breaking technology".
Gordon Murray Automotive will build 100 units and each will sell for £3.5 million. Design work is pretty much complete for "the last great analogue supercar," as Murray calls it, and production is on track for 2022.