2019 Mercedes-AMG GT R Pro
Perfect for track day drivers.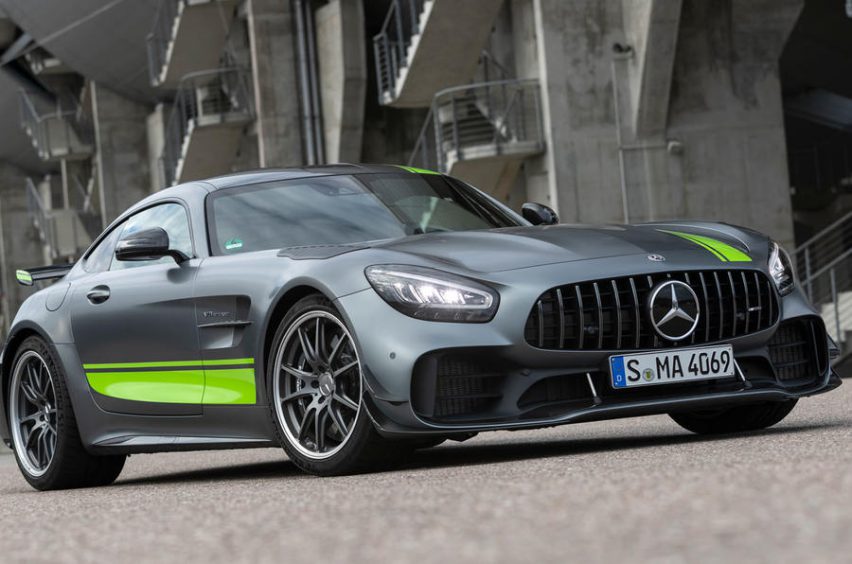 Feast your eyes on the Mercedes-AMG GT R Pro—the most extreme AMG GT to date. Somehow or other, by fair means or foul, it's completely road legal. To be clear, we don't condone using it for picking up milk from Sainsbury's—no, it makes much more sense on the track.
Weighing in at 1,650kg it's about 40kg lighter than the AMG GT R. It sports new lightweight bucket seats, wheels & brakes, and carbon fibre anti-roll bars. The improved power-to-weight ratio is complimented by reworked suspension, with manually adjustable coilovers that deal exceptionally well with bump and rebound. On its underside, a carbon fibre sheer panel greatly increases torsional rigidity.
Under the hood sits the same 4.0 litre V8 biturbo engine producing 577bhp at 6250rpm. It has, however, been re-tuned to tighten up on a track, reducing inertia. Its punch is directed to the rear wheels via a seven speed twin-clutch. It does 0-62mph in 3.6 seconds and has a top speed of 200mph. A new, bigger rear wing, front splitter, and various other dive planes, vents, flaps and wings keep it glued firmly to the ground.
In other words, it can tear up a track like never before. Late last year the GT R Pro took to the Nürburgring; it was 6 seconds faster than the AMG GT R and proved to be one of the fastest front-engined road cars ever to set wheel on the circuit, although it was still some way off beating the Porsche 911 GT3 RS, its main rival.
Its infotainment system features an "AMG Track Pace" data logger, which combines GPS tracking with various performance parameters. With this you can analyse data from your time on a circuit. You can download it after a lap, or receive real-time information, with green and red displays indicating whether you're up or down relative to your best lap. There's a lot of fun to be had with a car like this.
Cost: £188,345.
Marc W