The Honda Mean Mower V2
As quick to 100mph as a McLaren F1.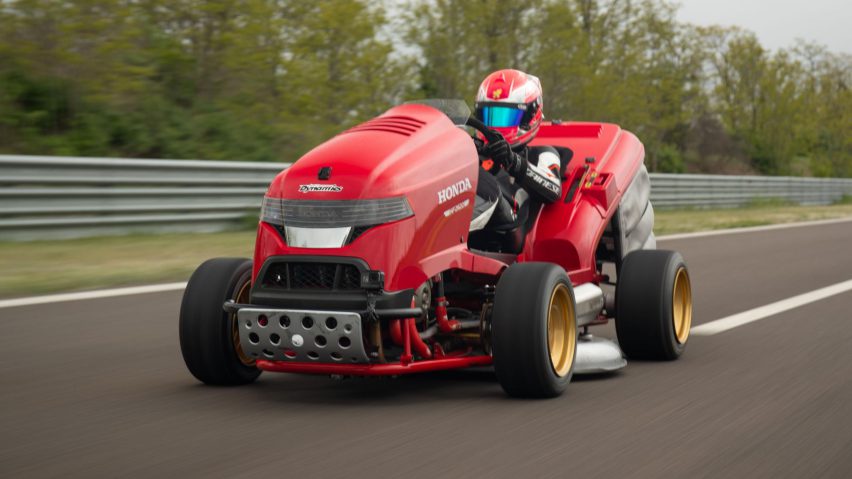 Fast cars and cat videos aren't everything, you know… occasionally one should stop to appreciate lawnmowers, too. Just recently Honda's 'Mean Mower V2' bagged a Guinness World Record for sprinting to 100mph in just 6.29 seconds.
A lawnmower that's quicker to 100 than a Porsche Carrera GT. Finally you can mow the lawn safe in the knowledge that if you need to escape from an angry wasp, you can. The record was set by stunt driver Jess Hawkins at the Lausitzring circuit, where Honda claims the Mean Mower V2 demonstrated a top speed of 150mph.
The Mean Mower V2 is one of those things that you 'really need', but… don't really. It boasts the same engine as a CBR1000RR Fireblade; four-cylinders, 200bhp and 999ccs, and it weighs just 69kg. That's a power-to-weight ratio more impressive than a Bugatti's!
But most importantly, it really does cut grass. Beneath the revised cutter deck you'll find state-of-the-art carbon fibre mower blades… nature doesn't stand a chance. Lastly, the front cowl and grass box was passed down by a predecessor, the HF 2622 lawn tractor, an exceptional machine.
Dave Hodgetts of Honda UK remarked that "Team Dynamics have gone above and beyond in developing and building this real feat of engineering, and hats off to Jess for being brave enough to get behind the wheel."