New BMW X6: World's First Vehicle Coated in Vantablack
It will be on display at the Frankfurt Motor Show in September.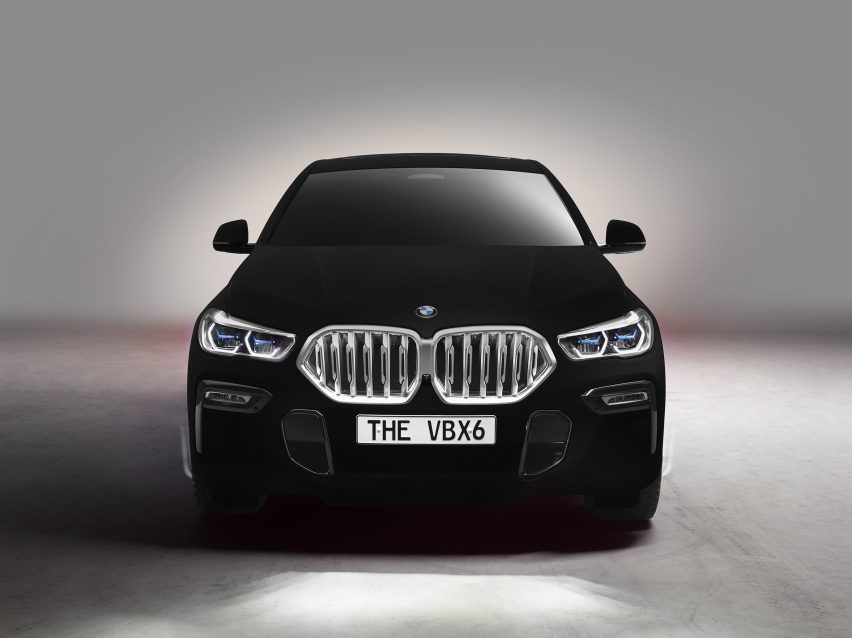 At this year's Frankfurt Motor Show, you might find a few people staring dumbstruck at a new BMW X6, due to the fact that they can't technically see it.
The car, which established the "Sports Activity Coupé" division—a body-style which consists of a traditional sedan (or gran turismo) body atop the platform of an SUV—will be the first vehicle coated in "the world's blackest black", a material known as Vantablack.
The "VBx2" paint finish contains a "Vertically Aligned Nano Tube Array", a collection of super-tiny carbon nanotubes, each one 5000 times thinner than a human hair. So small in fact, that approximately 1 billion can fit onto a square centimeter of surface area; any light that strikes the surface is almost entirely absorbed, with a one-per-cent total hemispherical reflectance.
Due to the lack of reflected light, a surface coated in Vantablack appears two-dimensional; without reflected light our eyes can't discern its defining features. It's a bit like staring at a black hole; it's interpreted by our brains as a void, rather than a mass.
"Putting a paint like that on a conventional car lacking a distinctive design would probably detract from it in some way," explained Ben Jensen, founder and CTO of Surrey NanoSystems. "We turned down numerous requests from various automobile manufacturers in the past… It took the BMW X6 and its unique, expressive design for us to entertain the idea… it worked really well on [it] because of the size of the car, its distinctive shape, and how imposing it is."
The car itself will take on rivals like the Porsche Cayenne Coupe and Audi Q8. Pricing is expected to sit somewhere between £63,000 and £75,000, depending on which specs you choose. A decent petrol option might be the M50i, which boasts a turbocharged 4.4 litre V8, 525bhp and 555lb ft of torque. It'll hit 0-60mph in about 4.2 seconds and is capped at 155mph. In the UK, most units sold will be the xDrive30d version, with a turbocharged 3 litre six-cylinder diesel. It does 0-60mph in about 6.4 seconds, has a top speed of 143mph, does 46 miles to the gallon, boasts 261bhp and 457 lb ft of torque. All versions sport an eight-speed torque-converter-equipped gearbox.
Marc Ward