2021 BMW Vision iNEXT
The flash future of BMW.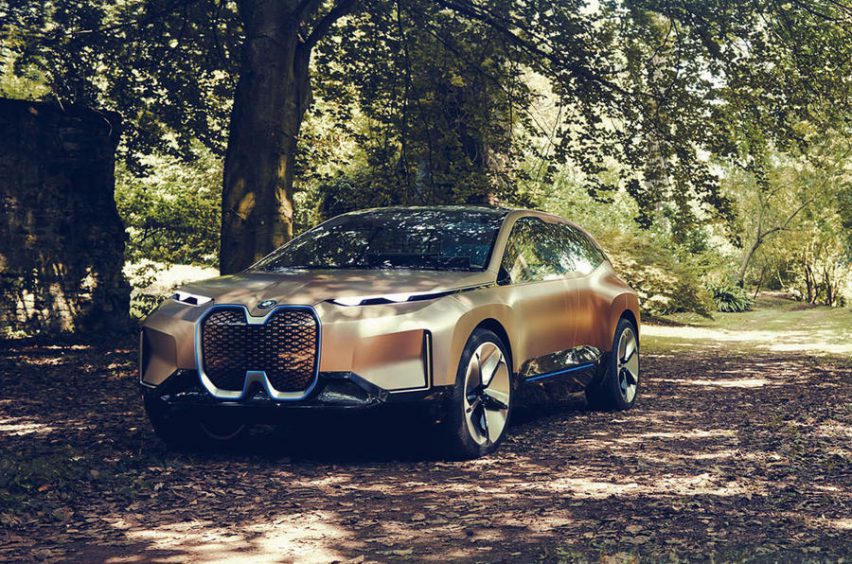 After several months of teasing, BMW has finally revealed its Vision iNEXT concept. The all-electric SUV enters production in 2021 and according to BMW boss Harold Kruger "…it will provide [the] building blocks for the future, from which the entire company and all of its brands are set to benefit." BMW spokesperson Klaus Frohlich has described it as a "brand leader", the next flagship SUV. But is it really the be-all and end-all? Let's take a look. I promise not to get too hung up on the gaudy copper paint scheme.
As one would expect, the iNEXT boasts sophisticated self-driving technology, which includes more than 30 sensors and a chip-based LIDAR. Much of it is hidden behind the gutsy grille, or the so called "intelligent panel" which dons a luminescent 3D-printed pattern. It's an interesting look to say the least.
Sizewise it's quite similar to the X5, but inside it's a very different story. The EV architecture allows for an impressively spacious cabin, while its minimalist styling and panoramic roof make it feel even bigger. Up front you'll find a wooden dashboard with two large digital displays and on the ceiling an "Intelligent Beam" projector.
The absence of B-pillars makes for easy access, and passengers can enjoy a fancifully adorned, large rear seat with enough space for four. The seat itself conceals 'intelligent material' which functions as a touch control; for instance, you can draw a musical note on the fabric to hear music and 'pinch' it to turn down the volume. BMW refers to this as 'shy tech'.
Performance figures are still unknown, but will most certainly be impressive as a result of BMW's fifth-gen electric powertrain, which debuts in 2020 with the arrival of the hotly anticipated iX3. The iNEXT also offers three different drive modes: Autonomous mode, for which the steering wheel folds away; Boost mode, which focuses controls and displays towards the driver, and Ease mode, for boring people.
As with all cars that claim high levels of autonomy, the degree to which this functionality can be used is largely dependent on local regulations. Nevertheless, Kruger believes the iNEXT "…represents a new era of sheer driving pleasure" and it can be yours in three years time, so start saving!