The Volkswagen Sedric: New Tech, New Designs
Fully autonomous and incredibly versatile.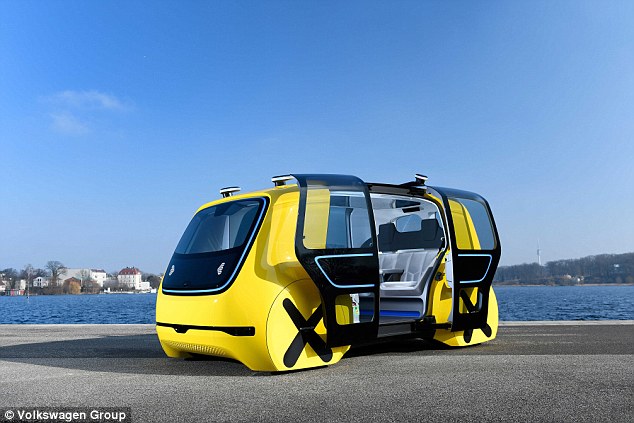 At last year's Geneva Motor Show, Volkswagen introduced its first concept car; a pod-like vehicle called Sedric, representing the group's vision for the future of transport. Just recently it was announced that a production version will be made available in 2021… however, in view of legislation… probably not in the UK.
The Sedric—which is short for 'self driving car'—has come a long way since its unveiling, with several iterations having been produced already. At first glance the car is reminiscent of Rinspeed's concept car, the "Snap". It boasts the same footprint as the VW Up and the absence of driver controls makes for a spacious and unique interior.
Similarly to the Snap, the group intend to modify the Sedric for a variety of uses- as a school bus, disco or karaoke bar, for instance. According to Peter Wouda, VW Group's design director, and head of the firm's Future Centre in Europe, it will even vary across different territories:
"A Sedric for the States can be much bigger and needs to be independent from infrastructure. Maybe that Sedric has to generate energy itself and will have solar panels on its roof."
"In China, the Sedric would be a room in which the environment is more healthy than outside… In Europe, it's all about saving time. In the Sedric, the time would be used to work or eat, or play with your kids."
"The second generation of cars [succeeding the Sedric] can be designed totally differently… If you take away human drivers, you can exclude the risk of crashes. Then you don't need seatbelts, steel, bumpers or airbags," said Wouda. "We could go back to simple solutions… We could build cars out of bamboo if we like."
Are we really that close to a car crash free future? Wouda seems to think so. He even believes that China will be the first to introduce fully autonomous vehicles judging by their determination to lead the way in advanced motoring technology, and the unusual ease with which they can pass new legislation.
It's hard to imagine a shift of this magnitude occurring in so short a time frame, but by no means does that mean it won't happen, it could just as easily be indicative of a poor imagination. We can be certain, at least, that the dominoes have started to topple.