The Audi PB18 E-tron
All-electric high-performance sports car... concept.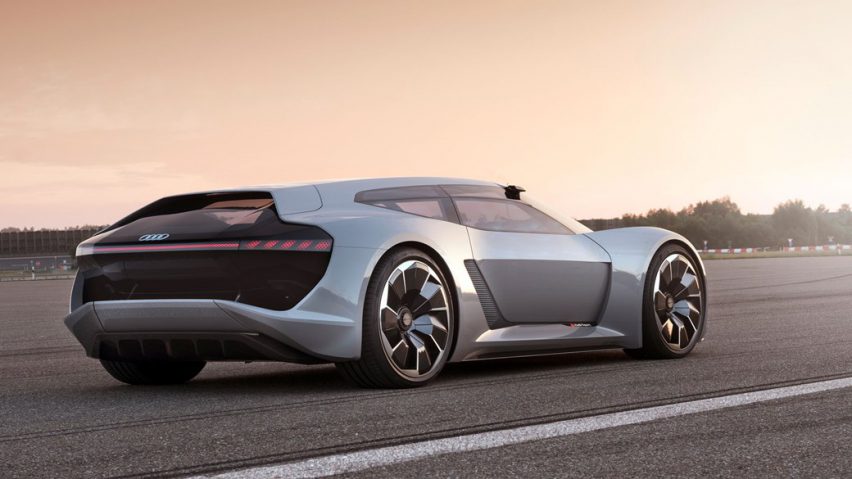 During this year's Monterey Car Week, at the Pebble Beach Concours d'Elegance, Audi unveiled its all-electric supercar concept, the PB18 E-tron, describing it as "a radical vision for the high-performance sports car of tomorrow."
If you've already snuck a peak at the pictures below, it won't surprise you to hear that the car was met with a great deal of praise by those in attendance, and not only because it looks like an evolved descendant of the R8.
Let's start with the shooting brake/estate like rear. Nobody understands why it looks so good, but it does. Moreover, it offers 470 litres of boot space, which means it's a practical sports car too!
On the front end, our attention is drawn to nothing. A big hole in fact, one that smoothes airflow and offers the driver a clear view of the road at his or her feet. Hole aside, Audi has taken much of its inspiration from the Aicon concept.
The PB18 E-tron shares much of its technological DNA with Audi's LMP1 racer, the R18 e-tron (hence the name). The battery is situated just behind the driver (though the driver isn't confined to just one place, but we'll get to that…) and it's a liquid-cooled, solid-state unit, which can be charged wirelessly and with enough energy to cover 310 miles.
Power is produced by three electric motors: one on the front axle and two that drive a rear wheel each, allowing for near-instant torque. They boast a maximum output of 500kW (671bhp) with up to 765bhp available for limited periods, which together with 610lb ft of torque, takes you from 0-60 in just over two seconds.
Inside you'll find two seats—nothing out of the ordinary. That is, until you press the 'Level Zero' button, then watch as the driver's seat, wheel and pedals slide electrically into a central position. This feature is made possible with a sophisticated drive-by-wire system—basically, digital communication between the steering wheel/pedals and the car itself negates the need for a physical link.
Thus, Audi's sports car of tomorrow places the driver in the center, both literally and figuratively. Notice that 'Level Zero' is a reference to—if not a jab at—the classification system that ranks a vehicles' self-driving capabilities. In an interview with CAR, Audi's Gael Buzyn said: "What's important from [our] point of view is that we use the technology to give a better experience, a closer experience to a race car than ever before."