Introducing the Aston Martin V8 Vantage
Aston Martin V8 Vantage 2006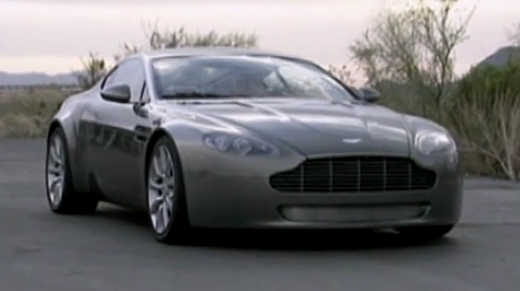 Unless you are 007 and the British Government will go into a deficit to buy you a new Aston 24 times over the last 55 years, you may need to save your 'money n pennies' and buy a used one. Getting into your Tux after 12 years may be tough, but slip into a 12 year old Vantage and it will fit like a glove. Very soon it will feel like an old lover, familiar and occasionally spiteful. You can even imagine a Walther PPK in the glove box and the ultimate divorce tool built into the passenger seat with the flick of red button under the gear stick. Bond never drove a Vantage, his loss we say and it may even bring you pussy galour.
The production V8 Vantage was introduced in 2006. The all British two seater, deuce coupé, had a bonded aluminium structure for strength and lightness. The V8 Vantage was initially powered by a 4.3 L (4300 cc) quad-cam 32-valve V8 which produced 380 bhp However, models produced after 2008 had a 4.7-litre 420 hp (313 kW) V8 (note to Film Ed at M&M).
The V8 Vantage launched at £79,000, (US$110,000, or €104,000). When currencies were properly aligned like Britain set them.
The V8 is inexpensive to maintain and most of the maintenance can be done by great independent mechanics these days. The basic maintenance you will need are oil changes which cost under £150 and a brake flush, costing £120 at most. The last thing to check, if not done by a previous owner, is your differential fluid for £300 every 4 years. Brake pads are also very affordable and will not need Bond's winnings from Casino Royale to pay for. Check reliable online alternatives like www.astonmartinbits.com that provide new and used parts for all Aston's at a discount on the dealer's selling prices.
There are a few areas that seem to be common issues on the majority of pre 2009 models. The leather is very sensitive to sun and weight. You should check for significant wear in the seats with less than 20k miles on the clock and areas of the dash directly exposed to the sun which start coming loose after 3-4 years. There is also the Sat-Nav, which is usable, despite the out dated rattily DVD maps system, which makes our last Aircraft Carriers look modern and makes completing a guided mission 'tiresome Meester Bond'.
The 02 (Oxygen Sensors) sensors are another defect that Aston Martin economised on in the post crash cut-backs. The pre 09 cars run very rich in fuel making them eat up 02 sensors. Each sensor is about £230 from your local dealer. The boot on some V8's sometimes has a drainage issue (like our Aircraft Carriers) and when it rains heavily it can turn your V8 into Bond's Lotus Esprit and you may find fish in the boot.
You should also be aware that the sport shift feature in all Vantage models outside of the Vantage S or V12 is pretty slow and clunky. Thankfully Aston still offered a 6 speed manual. The final tip to keep in mind during your test drive is the infamous traction control which seems defective in every model but is not. You just didn't read your manual Meester Bond. You simply have to hold the button down for over 10 seconds until the car takes the traction control off and allows you to go tail happy and licensed to kill (yourself usually)!
The important thing about a Vantage is how it makes you feel. It's a sense of occasion every time you get in it and when you get out, I dare you not to look over your shoulder as you walk away. So Meester Bond, are you
ready for this mission? If so you will definitely be stirred and not shaken.
We say buy a manual 2007 version for best value – Don't worry too much about mileage if it comes with history. Sub 70,000 miles is a bonus.
Value: used price range: £28,000 to £31,500
An Aston for less than a BMW Sports 2 series or a Focus ST – after all you only live twice.
Buy: Yes = A very big M&M 'Yes'!
Sell: Nope
Hold: Yes if you have one you lucky git