The Milan Red: Austria's 1,325bhp hypercar
Fast, lightweight and... beaky.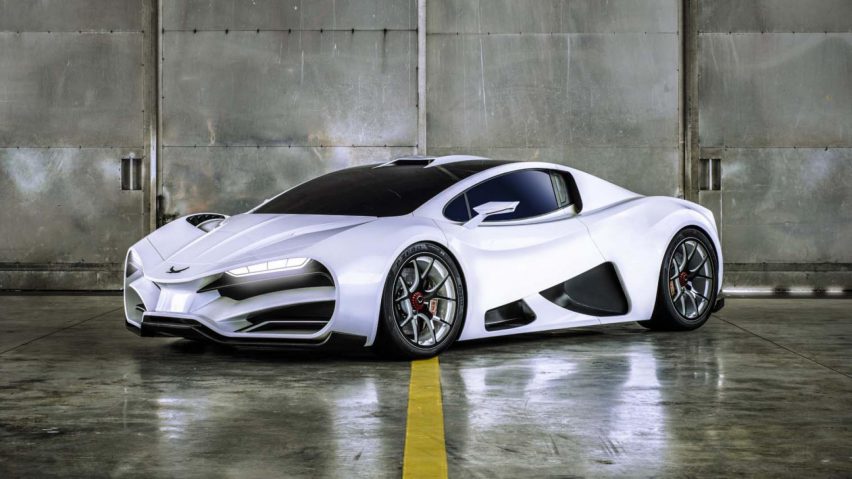 Austria—the country that gave us Arnold Schwarzenegger and maybe some other stuff too—is producing a 1,325bhp hypercar to stand among the Bugattis and Koenigseggs of the world. Introducing the Milan Red…
Milan Automotive named its hypercar after the red kite, a graceful bird of prey, hence the not so graceful beak for a bonnet. A unique design idea, whether you like it or not. You can even choose between three falcon-themed driving modes: Glide, Hunt and Attack.
The Red's colossal power, along with its 1,033lb ft of torque, is thanks to a 6.2-litre quad-turbocharged V8 (all without the assistance of an electric motor!) and given its lightweight (1,300kg) carbon fibre construction, this should make for a very fast car indeed.
Milan Automotive claims 0-62 mph in 2.5 seconds, which is marginally slower than a Chiron. But wait, 0-124 mph in just 5.5 seconds, which is one second quicker. 0-186 in 9.9 seconds, 3.5 seconds quicker… and then on to a top speed of 249 mph.
If these number don't spur your interest, consider some of its quirkier features, like the Austrian-made carbon fibre suspension wishbones, courtesy of Peak Technology. Or the fact that this thing is rear wheel drive! Insane, I know, but don't worry, there's a heartbeat monitor inside… just in case… your heart needs monitoring? Side note: If this is the case, please don't drive a 1,325 bhp hypercar.
Other than the heartbeat sensor, little is known about its interior, however Milan Automotive has assured us that it will be "stunning". Markus Fux, the firm's CEO, added that "nowadays you can drive an artistic car, a high-tech-monster, a throne on four wheels – or a car, that only serves one purpose: stealing everyone the show. And this is where we come into play."
If you want to get your hands on one, you'll need to be quick as only 99 will be made, and 18 are already spoken for! All you need is £2 million… no biggie… right?