The Jaguar D-Type Returns
The three-time Le Mans-winner returns to production after 62 years.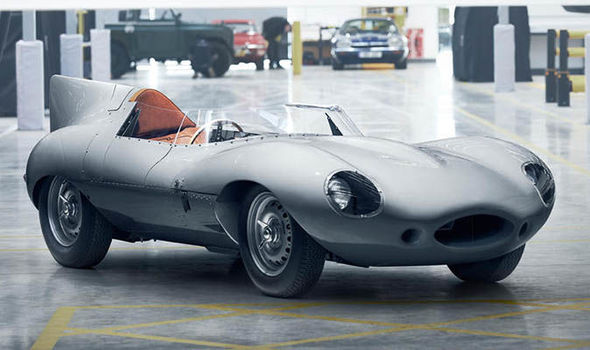 *Warning* Subject matter may cause uncontrollable salivation; bibs are advised.
Jaguar is continuing with the production of its legendary D-type, an iconic racer that gained prominence in the mid-50s as a three time champion of The 24 Hours of Le Mans, one of the most prestigious car races in the world.
The British carmaker initially set out to make 100 of the racers, but only 75 were built when production ended in '56. So now the firm has set out to build 25 more to fulfill its ambition, the first of which has just been unveiled at the Salon Rétromobile in Paris.
The prototype reveals that Jag has stayed true to its original blueprints;  it flaunts a 'long-nose' configuration (7.5" longer than the 'short-nose', and slightly faster) with the same six-cylinder XK engine under the hood which, back in '55, was the first to utilize a dry-sump system.
But that's not the only 'first'. The D-type was also first to flaunt a unibody chassis, a frame so advantageous that you would struggle to find a car without one today. And let's not ignore the famous tailfin, responsible for its extraordinary stability… drivers have claimed that they could take their hands off the wheel at speeds exceeding 175mph!
When the D-type first hit the scene it was the most technologically advanced race-car of its time—it's what would have passed for a hypercar. Despite not being considered a hypercar today, it seems to have retained its prestige. No doubt buyers will be willing to fork out large sums for one.
Prices for the D-type have yet to be confirmed, but it's quite likely that drivers will have to part with seven figures. The first factory production D-Type was sold for north of £2m in '08, and a '55 model went for nearly $20m at an auction in 2016 (though its race history may have had something to do with that).
Money aside, this is one of the most beautiful racers of all time, and one that deserves credit for its role in Jaguar's legendary status.
Marc W