The Lotus 3-Eleven 430
Lotus' fastest, most ferocious road-legal racer.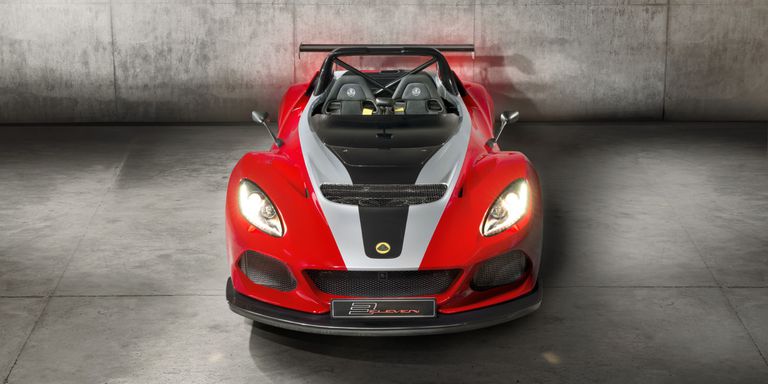 Three years have passed since the Lotus 3-Eleven was unveiled at the Goodwood Festival of Speed. It was (and is) one of Lotus' most exciting vehicles, described by some as the brand's 'most untamed car'.
Now that it's nearing the end of the 3-Eleven's production life, Lotus is releasing 20 'special edition' vehicles, in what they describe as a "fitting send off for the company's legendary road racer". Introducing the 3-Eleven 430.
It's the firm's most insane road-legal motor, ever. It's lighter, faster, sharper, and more magnificent than those that came before it. When it comes to speed, the only thing that comes close is the Exige.
Speaking of which, a key change to the 3-Eleven was a V6 engine, taken from the Exige Cup 430. This gave the racer enough of an edge (and the audacity!) to complete a lap at the Hethel test track 0.8 seconds faster than its benefactor, earning it the 'fastest Lotus road car' title.
The roofless racer boasts minimal tech but extraordinary specs. The powerful 3.6 litre supercharged V6 produces 430 bhp, which is fed through a six-speed manual gearbox to four Michelin Cup 2 tyres.
The 430 achieves 0-60 in a face lifting 3.1 seconds and a top speed of 180 mph (6 mph faster than the original). At this speed the 430 experiences a downforce of 265 kg, 165 kg of which goes straight to the rear wheels.
For this we can thank its new carbon fiber bodywork, which has shaved 5kg from the original's 925 kg dry weight. In addition to this are various aero enhancements such as a higher rear spoiler, a longer front splitter, and a new diffuser.
Other new additions include a noisy £5k titanium exhaust and a complex traction control system with enormous AP Racing 'J-Hook' break discs. However, it does retain the Exige-based aluminium chassis, its double wishbone suspension with Eibach anti-roll bars, and its class leading vehicle dynamics.
For the opportunity to get your hands on one, you will have to be willing to part with £102k (that's £20k more than the original) and if you opt for the removable steering wheel, go ahead and throw in another £8k.
Jean-Marc Gales, CEO of Lotus, said "When we first unveiled the Lotus 3-Eleven it heralded a new generation of truly focused, world-class sports cars. It altered perceptions of what was possible at this price category, and today the new 3-Eleven 430 moves the benchmark to remain the ultimate weapon in focused road driving and track work."
Marc Ward