The New TVR Griffith
Light as a feather, strong as an ox.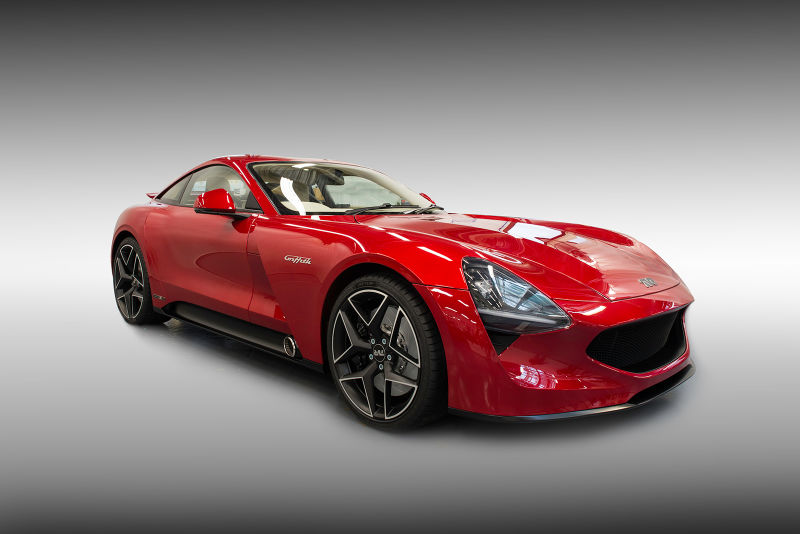 54 years ago an American engineer by the name of Jack Griffith wedged a V8 into his Grantura MkIII. This high-powered hot rod became known as the TVR Griffith 200, establishing the firm's 'light car big engine' philosophy. Fast forward to today and, though the firm has changed hands, the ethos remains… introducing the second gen TVR Griffith.
The new Griffith weighs only 1250kg and under the hood sits a mighty Cosworth-engineered 5.0-litre V8. The bespoke engine produces nearly 500 bhp, enough to launch the car from 0-60 in less than 4 seconds, then on to speeds north of 200 mph. These are exciting numbers, and quite a relief considering this is the first car since the brand's resurrection.
With a power-to-weight ratio of approx 400 bhp/tonne, you'd think the car is at risk of lift-off. But you'd be wrong, thanks to a little bit of design genius. You see those side-exit exhausts? Not only do they look great, they allow for a flat floor configuration, which generates downforce by channeling air beneath the car, effectively sucking it towards the road.
At the front end you'll find large air intakes and a front splitter which forces air up and over the car. And at the rear end an integrated diffuser improves the transition between the high-velocity airflow underneath, and the slower airflow of the surrounding atmosphere.
It's no surprise then that the Griffith exhibits extraordinary handling. It also boasts meticulous aluminium and carbon fibre architecture, and 50/50 weight distribution, which keeps it stable at high speeds and endows it with majestic cornering capabilities. It even sports double-wishbone suspension with concentric springs and adjustable coil-over dampers.
Inside there are two seats, each sporting four-point harnesses (though seat belts are optional). It comes with air-con, carpet, and in true 21st century fashion, a multimedia system, among other special finishes. All in all it appears to be an impressively compact, assertive, and—despite its size—imposing vehicle. In fact, we wouldn't mind seeing it go head-to-head with the upcoming Porsche 911—now that would be interesting.
Only 500 will be built when production starts in late 2018. Each unit is expected to cost 90k and will be available for purchase next year.