The Ferrari Monza SP1 and SP2
Maranello's most powerful motors.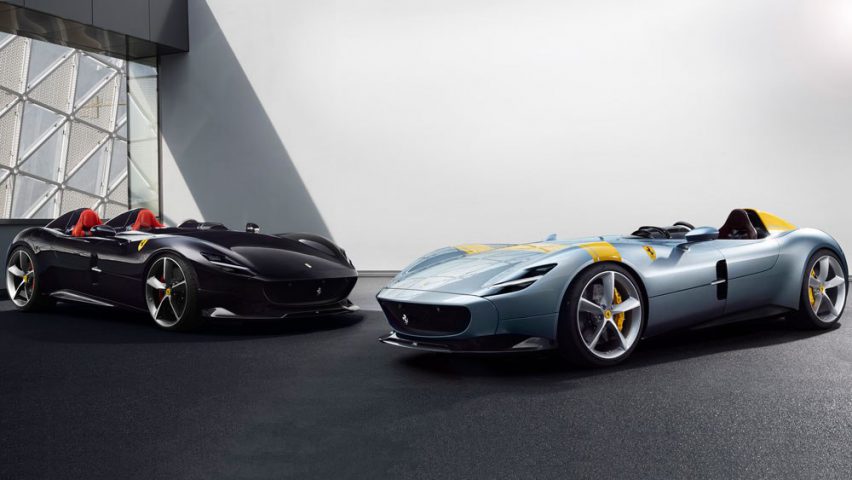 Pick your jaw up off the floor, you look like you've just seen two Ferraris that bear a resemblance to '50s barchetta racers… no, not bruschetta, but those are nice too. I'm talking about the Monza SP1 and SP2.
A perfect blend of traditional design and modern muscle; each one is based on the 812 Superfast, which means a whopping great V12 under the hood, the most powerful engine Ferrari has ever built.
Try to imagine what they must be like to drive; to be sat in an uncovered cockpit, 810 bhp at your disposal; to jump from 0 to 60 in under 3 seconds; to have insects splattering in your face at 190 mph. Isn't that what dreams are made of?
Truth be told, bugs won't be much of an issue. Ferrari has engineered a 'virtual windshield', which means that the aerodynamics of the car is such that airflow is directed away from the drivers face. Owners will even receive a racing suit designed by the luxury brand Loro Piana, along with bespoke driving shoes and headgear by the Italian leather maker Berluti.
So which of the two would you choose? The open, single-seat SP1? Perhaps you'd prefer the dual-seat SP2? Both look extraordinary and both will perform like nothing else. Would it be easier to just flip a coin?
Unfortunately—or fortunately, if you just so happen to be fortunate—they're only aimed at "dedicated clients and collectors" and will be limited to just 500 units in total. Price? We don't know… but they're rumoured to cost, quite figuratively, an arm and a leg.
Marc Ward